Saint-Narcisse
Directed by
Bruce LaBruce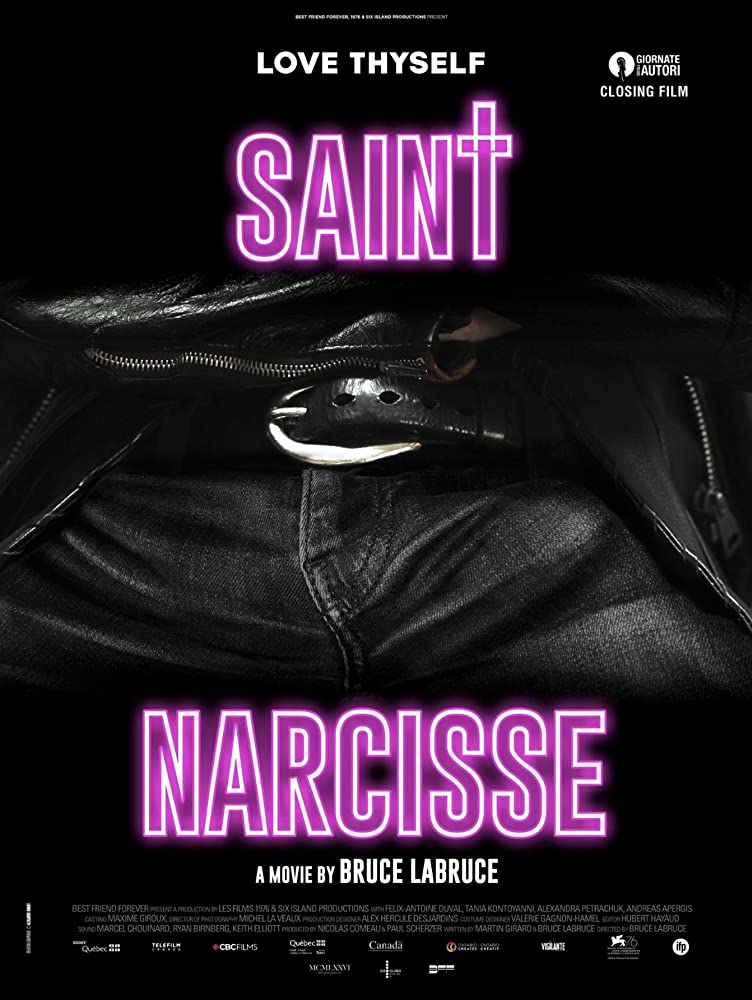 ---
To submit an order, request a preview screener, or ask a question contact Maxwell Wolkin
The latest from Bruce La Bruce, Canada's reigning "King of Kink," follows Dominic, a young man with a fetish… for himself. Nothing turns him on more than his reflection, with much of his time spent taking Polaroid selfies.

When his loving grandmother dies, he discovers a deep family secret: his lesbian mother didn't die in childbirth and he has a twin brother, Daniel, raised in a remote monastery by a depraved priest, held captive against his will! The power of destiny brings together the two beautiful, identical brothers, who, after being reunited with their mother Beatrice, are soon embroiled in a blasphemous web of sex, revenge and redemption.

Set in the early 1970s and the afterglow of sexual liberation, SAINT-NARCISSE is a love letter to the psychosexual thrillers of that era. Elegant visuals are combined with LaBruce's notorious punk provocations in "a wild ride that's enjoyable in all its B-movie glory while also titillating the intellect" (The Hollywood Reporter).
"The filmmaking isn't only ravishing to look; the writing and narrative construction have become a little more sophisticated, too (...). A wild ride that's enjoyable in all its B-movie glory while also titillating the intellect."

"This totally twisted tale lets director Bruce LaBruce uphold his title as Canada's King of Kink. Saint-Narcisse has a hard-on for our self-obsessed selfie culture. It's a delightfully blasphemous romp for a generation of kids reared on notions of "me, me, me." "

"Born out of a punk tradition, and steeped in the aesthetics of porn and soap opera narrativizing, LaBruce's films are political, funny, and sexy in ways that so often elude contemporary queer cinema in the west. His latest film, the Quebecois erotic doppelgänger thriller Saint-Narcisse, isn't so different in these respects. In fact, it may be the slickest manifestation of LaBruce's cinematic stylings yet. Saint-Narcisse ... is a new, thoughtful instance of his particular brand of audacity."

"Saint-Narcisse follows nicely in LaBruce's ouevre, combining his nack for blowing far past any boundaries of what is deemed 'decent' into territory where most fear to tread, and giving us a delightful, erotic mysterious tale, with just the right amount of discomfort to make us look a little longer in the mirror."

"It's a gloriously bizzare, endlessly intriguing dark comedy homage to the Québécois cinema of the 1970s with a theme inspired by the Greek myth of Narcissus that resonates in these days of social media solipsism. LaBruce's names for the men is a homage to De Palma's female twins , Dominique and Danielle, played by Margot Kidder in his 1972 horror classic Sisters, and in its own way Saint-Narcisse is just as memorable and enjoyable as that cult picture. [I]n fact this might just be a twincestuous future cult classic. "
Awards & Recognition
Winner
Fanheart3 Award Graffetta d'Oro
Venice Film Festival
Nominated
Queer Lion
Venice Film Festival
Nominated
New Visions Award
Sitges Film Festival
Official Selection
Toronto Int'l. Film Festival
Official Selection
Vancouver Int'l. Film Festival
Official Selection
Busan Int'l. Film Festival
You May Also Like...