Queen of Hearts: Audrey Flack
Queen of Hearts: Audrey Flack
Directed by
Deborah Shaffer
,
Rachel Reichman (Co-Director)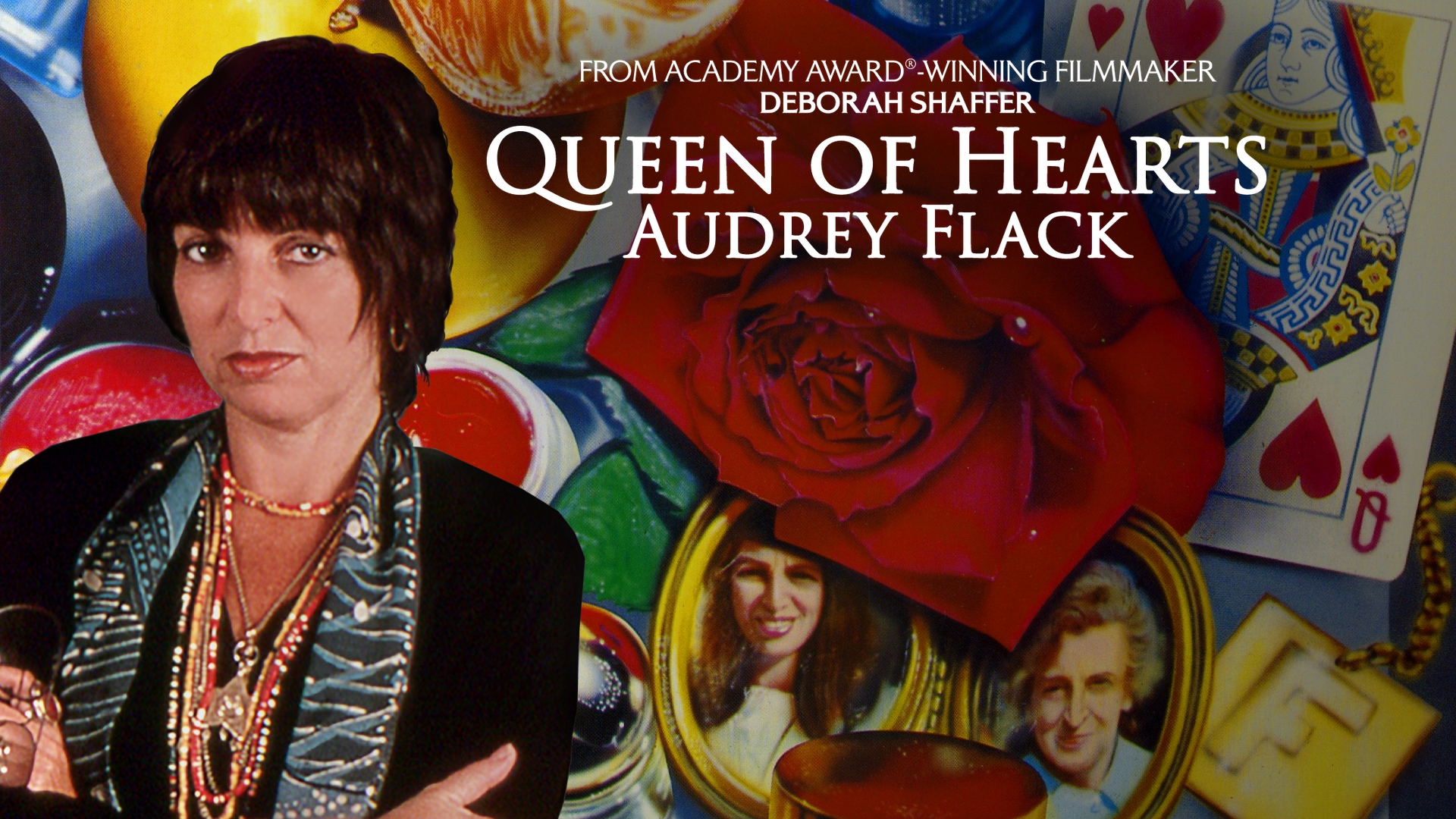 At 88 years-old, Audrey Flack holds a unique place in the history of contemporary art in America. Feminist, rebel, mother, painter, sculptor and teacher, Audrey's often controversial 40-year career evolved from abstract expressionism in the 1950s to photorealism in the 1970s. One of the first women ever included in the famed Janson's History of Art, Audrey continues to create, explore, and inspire with her unique style and indomitable spirit.

Queen of Hearts follows Flack as she takes her work in a brand new direction and reveals her long-term struggles as the mother of a child with autism. Flack has something deep and genuine to communicate to the world. She is a provocateur and a rebel, an example and an inspiration. Queen of Hearts is a moving portrait of an artist who is still testing, still experimenting, still searching.
Audrey Flack is an internationally recognized painter and sculptor and a pioneer of photorealism. Ms. Flack enjoys the distinction of being the first photorealist painter whose work was purchased by the Museum of Modern Art for its permanent collection. Among the major museums around the world, her work also resides in The Metropolitan Museum of Art, the Solomon R. Guggenheim Museum, the Whitney Museum of American Art, and the National Museum of Women in the Arts. Additionally, she is the first woman artist, along with Mary Cassatt, to be included in Janson's History of Art text.

Among her public commissions are Monumental Gateway to the City of Rock Hill in South Carolina, consisting of four twenty-foot high bronze figures on granite pedestals; Veritas et Justitia, a fifteen foot high figure of Justice for the Thirteenth Judicial Courthouse in Tampa, Florida; and Islandia, a nine-foot high bronze sculpture for the New York City Technical College in Brooklyn, New York. A major retrospective of her work organized by the J.B. Speed Art Museum in Louisville, Kentucky has traveled to museums around the country beginning in 1992.

Audrey Flack has taught and lectured extensively both nationally and internationally. She was awarded the Augustus St. Gaudens Medal from Cooper Union, was an honorary Albert Dorne Professor at Bridgeport University, and awarded an honorary professorship at George Washington University. There are numerous books on her work, including Breaking the Rules: Audrey Flack, a Retrospective, 1950-1990 by Thalia Gouma Peterson, published by the Abrams Publishing Company in New York. Audrey Flack is the author of three books, On Painting (Abrams 1986), The Daily Muse (Abrams 1989), and Art & Soul (Penguin USA 1991). She is currently in the process of writing a sequel to Art & Soul, as well as a memoir.

"An eye-opening portrait of a singular artist who deserves greater recognition. Recommended." - Video Librarian
DVD Features
Filmmaker Q&A
Deleted Scenes
Discs: 1
"The festival opened with an absolutely gorgeous documentary about the Photorealist painter and sculptor, Audrey Flack. Queen of Hearts: Audrey Flack enraptured the audience and earned a standing ovation. It is a beautifully done documentary of a life well-lived."

"...what's refreshing about Deborah Shaffer and Rachel Reichman's look is how intimate and personal it feels, grounding a remarkable woman in a very personable and extraordinary light. "

"...she has been an incredible photorealist, armed with a convincing spray brush. Now, the artist finally gets her due in this documentary about her life."

"...the best thing I can say about QUEEN OF HEARTS is simply just see it. It is a wonderful portrait of a mover and shaker in the art world, who is also one hell of a grand lady."

"A thoroughly engaging documentary portrait of an artist ... Queen of Hearts: Audrey Flack, from director Deborah Shaffer (To Be Heard) and co-director Rachel Reichman (editor on Hitchcock/Truffaut) is the perfect introduction to its subject, comprehensive in its detail and captivating in its approach"

"One of the most dramatic segments of the film's narrative arc is that it first takes us through a period in which Flack stopped painting at the height of her success, shuttered the studio for two years, and re-emerged as a sculptor. Her long second act includes the prolific production of often monumental sculptural works — but we meet her just at the point at which she returns to large-scale painting after some 30 years. Through it all, we meet in the same woman a hard-core student of art history with a tireless mind for visual problem solving, technical innovation, and ambition, who is also a charming, down to earth and feisty story-teller that makes us feel like she's speaking just to us."

"...a fascinating examination of a singular artist, a woman who thrived in the nearly completely male-dominated art world of the 50s, changing the demographic and cultural landscape of 20th century art. Anyone who is interested in hearing and seeing first hand the experience of a woman breaking the artistic glass ceiling will find the film compelling, not least because her story comes directly from the source. Audrey Flack is an opinionated, feminist artist who not only continues to create but also to educate young artists. It's a beautiful thing to know women like her are out there. It's time her story is being told, and we have Shaffer and Reichman to thank for that."

" Flack is open, contemplative, and sharp. Her tenacious need to create is naturally infectious...."

"For people looking for insight into this talented artist's work, this film is a revelation."

"In the terrific new documentary QUEEN OF HEARTS—AUDREY FLACK, directed by Deborah Shaffer and co-directed and edited by Rachel Reichman, Flack takes center stage in her studio, creating new work, philosophically holding forth, and shedding much-needed light on an overlooked chapter in the long history of twentieth-century American art."
Awards & Recognition
Winner
Best Documentary Feature Editing
Ashland Independent Film Festival
Winner
Best Documentary
New Hampshire Jewish Film Festival
Winner
Visionary Women Award
Indie Grits
Winner
Audience Award
Hamptons Doc Fest
Winner
Art & Inspiration Award
Hamptons Doc Fest
Official Selection
DOC NYC
Official Selection
Full Frame Documentary Film Festival
Official Selection
FIFA
Official Selection
Boca Raton Jewish Film Festival
Official Selection
Newport Beach Film Festival
You May Also Like...