H2: The Occupation Lab
Directed by
Idit Avrahami
,
Noam Sheizaf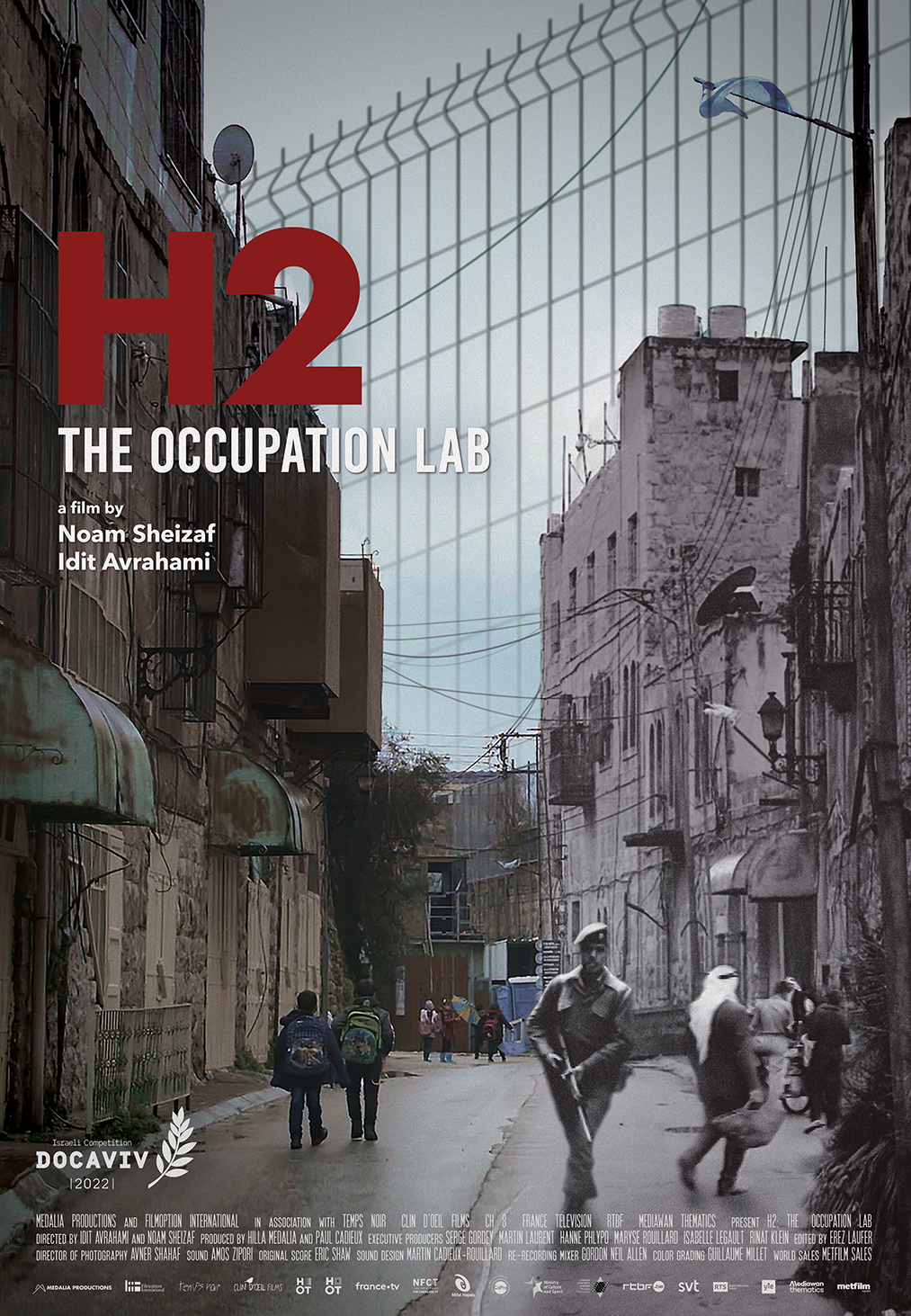 ---
To submit an order, request a preview screener, or ask a question contact Erin Farrell
Along a one-kilometre road in the heart of the Palestinian city of Hebron lies H2 — a neighborhood with a Jewish settlement closely guarded and highly surveilled by the Israeli military. At the end of this stretch of road lies the Cave of the Patriarchs, a holy place for both Jewish and Muslim faiths. This is where both the Hebron Massacre of 1929 took place— effectively birthing the Jewish settlement movement — and where the policy of ethnic separation was first implemented by the Isreali military. Rich with history of Jews and Muslims and the only city in the State of Palestine with a Jewish settlement, H2 has acted as both a micrososm for the entire conflict and as a laboratory for the methods of control implemented by the Israeli occupation of the West Bank for over 50 years. H2: The Occupation Lab is a clear-eyed case-study using archival footage and interviews to tell the city's history and how it has fueled the entire Israeli-Palestinian conflict.

Filmmakers Idit Avrahami and Noam Sheizaf believe the Palestinian city of Hebron holds the key to understanding the failures of the past and the risks of the future for the West Bank. In their joint statement on the mission of their documentary, H2: THE OCCUPATION LAB, they write, "In a world that manipulates and controls people through technological means, military power, fences and walls, H2 feels like a message from a dystopian future – and not one just aimed at Israelis and Palestinians. It shows what happens when institutions fail, when the law gives way to power, when religious extremism is becoming a political resource, and when equality gives way to ethnic control. And it demonstrates the urgent need for a new kind of political thinking – one which is founded on equal rights, respect and cooperation." This documentary seeks to put the neighborhood of H2 in historical and political context and to understand better ways into the future.
"H2: The Occupation Lab leaves us in shock and deep thought about human nature – a traditional narration, presenting historical events unfolding in scope of over 50 years, well researched and richly documented from various points of view, once again proves its effectiveness in moving minds and hearts."

"As the title indicates, Hebron was and is a laboratory for the methods used throughout the West Bank, and H2 makes the cruelty of those methods painfully clear."
Awards & Recognition
Nominated
Best Israeli Film
DocAviv Film Festival
Nominated
Asian Perspective Award
DMZ Int'l. Documentary Film Festival
Official Selection
Zurich Film Festival
Official Selection
Int'l. Film Festival & Forum on Human Rights Geneva
Official Selection
Other Israel Film Festival
Official Selection
Sedona International Film Festival
You May Also Like...