Fashion Collection
Directed by
Lina Plioplyte
,
Luca Severi
,
James Crump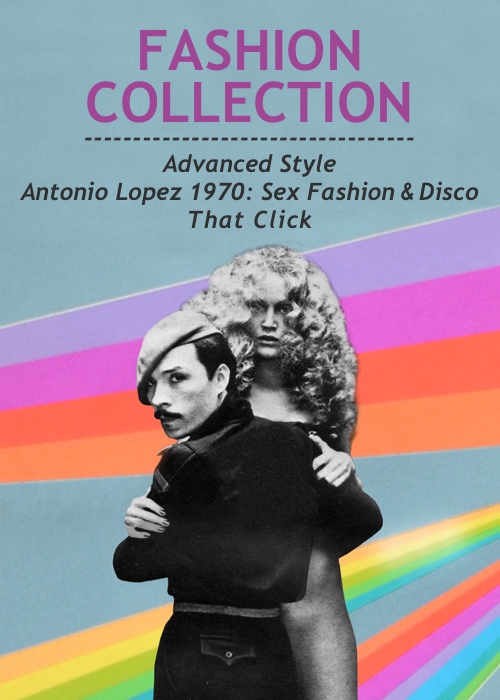 ---
To submit an order, request a preview screener, or ask a question contact Erin Farrell
Featuring totemic figures of the fashion industry as well as every day, sartorially-inclined, Film Movement's Fashion Collection takes viewers on a journey through perhaps the most universal form of self-expression.

ADVANCED STYLE (2014, directed by Lina Plioplyte)
Based on his popular blog and book, street photographer Ari Seth Cohen and director Lina Plioplyte dive into the personal lives of New York City's most fashionable seniors. In an industry obsessed with youth, these older women dispel conventional ideas about beauty and aging and prove that with age comes grace and confidence.

ANTONIO LOPEZ 1970: SEX, FASHION & DISCO (2017, directed by James Crump)
This documentary is a vibrant time capsule of the decadent world of '70s haute couture as viewed through the eyes of Antonio Lopez, the dominant fashion illustrator of the era. Full of stunning archival footage and interviews with Lopez's friends, discoveries, and muses - Grace Jones, Jessica Lange, Bill Cunningham, Pat Cleveland, Yves Saint Laurent and Karl Lagerfeld amongst them - these icons and more assemble a vivid portrait of Antonio Lopez and the revolutionary movement he helped create.

THAT CLICK (2019, directed by Luca Severi)
A man at the cutting edge of fashion, photojournalism and portraiture, photographer to the stars Douglas Kirkland has portrayed over sixty years of pop culture. This fascinating feature takes a closer look into the career of one of the most important photographers of the last century. His subjects, who are some of the biggest stars of Hollywood and the fashion world, provide testimonials.
"Advanced Style slots neatly between Bill Cunningham New York and Albert Maysles's Iris. Recommended." - Video Librarian, on ADVANCE STYLE

"Recommended" - Video Librarian and EMRO, on ANTONIO LOPEZ 1970: SEX, FASHION & DISCO

"This is recommended viewing for many with either academic or practitioner interest in portraiture, magazine history, or the history of photography. A breezy survey of the work and life of an important photographer." - EMRO, on THAT CLICK
"... alive with art, music and the recollections of players from that world, including Jessica Lange, Vogue creative director Grace Coddington and the late New York Times society photographer Bill Cunningham."

"...filled with the mesmerising, sometimes iconic pictures that were taken by its star subject, the celebrity photographer Douglas Kirkland."

"...undeniably captivating, even uplifting at times. "
Awards & Recognition
Winner
Metropolis Grand Jury Prize
DOC NYC
Winner
Best Fashion Feature Film
Cinefashion Film Awards
Official Selection
BFI London Film Festival
Official Selection
IDFA
Official Selection
Seattle Int'l. Film Festival
Official Selection
NewFest
Official Selection
OUTshine Film Festival
Nominated
Best Documentary Feature
Santa Barbara Int'l. Film Festival
Nominated
Best US Documentary
American Documentary Film Festival
Nominated
DocEdge Award
Documentary Edge Festival
Official Selection
Hot Docs Int'l. Film Festival
Official Selection
Tallinn Black Nights Film Festival
Official Selection
IDFA
Official Selection
Vancouver Int'l. Film Festival
You May Also Like...