During the Ming Dynasty, a Buddhist abbot charged with protecting the sacred scroll of Tripitaka prepares to name his successor. An aristocrat and a general arrive at his secluded mountaintop monastery promising to help in his search, but are in fact scheming to secure the scroll for themselves. As they set about recommending corrupt successors, rival bands of martial artists lie in wait to steal the precious artifact. Soon, the monastery is transformed into an epic battleground for the scroll, with each player caught in a web of betrayal. Called a "remarkably photographed caper heist [featuring] intriguing battles of wits and minds" (Far East Film Festival), RAINING IN THE MOUNTAIN is also the peak of legendary director King Hu's (A TOUCH OF ZEN) infusion of Buddhist spiritual principles into the legacy of martial arts cinema.
Director & Cast
Director:

King Hu

Starring:

Feng Hsu

Starring:

Yueh Sun

Starring:

Chun Shih

Starring:

Feng Tien
Where to Watch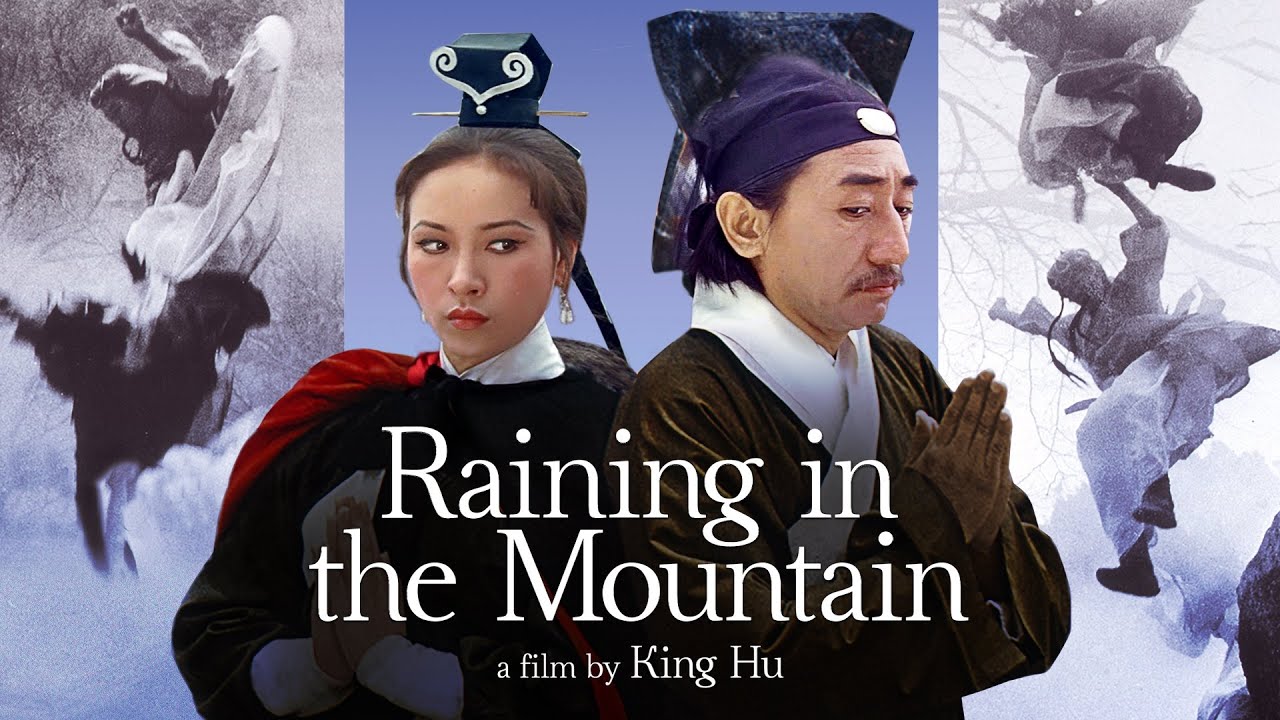 "CRITIC"S PICK. This is spectacular, exhilarating entertainment. One might be moved to say, corny as it sounds, "All hail King Hu.""

"While not a martial arts film, it looks back to the director's earlier trilogy of "inn films." Having used the country inn as a hive of skullduggery, Hu here turns to a Buddhist monastery as his theater of action. While various monks conspire among themselves to succeed the departing abbot, a general and an aristocrat hire competing thieves to steal an ancient sutra hidden in the monastery's library. Hu skillfully contrasts the ceaseless intriguing, greed and ambition of the characters in the labyrinthine sets with the Buddhist principle of renunciation, represented by the expansive landscapes of the film's opening and closing."

"Synthesizing disparate innovations from pan-Asian action filmmaking... Hu created the new gold standard. It is safe to say that subsequent wuxia, or martial arts films generally, would not look or move quite like they do without him. What has largely been discarded, however, is the pedagogic intent in Hu's entertainments. He was an adherent to Chan Buddhism and, beginning with Come Drink with Me, increasing with A Touch of Zen, and peaking with the Mountain films, his faith was an important part of his narratives. In this respect, the ascetic Tsai Ming-liang is as much an inheritor to Hu's tradition as the flamboyant Tsui Hark, with one pursuing his spiritual seriousness and the other his physical buoyancy."

"King Hu spent more than an entire year crafting Raining in the Mountain and Legend of the Mountain (Shanzhong Chuanqi, 1979), two films shot back-to-back on location in South Korea. More than just a remarkably photographed caper heist staged in the most unlikely setting of a serene Buddhist monastery, Raining in the Mountain sets itself apart from the typically action-heavy wuxia genre by a greater emphasis on the intriguing battles of wits and minds. Intentionally muted in its violence, the film's limited fight scenes were masterfully choreographed inspired by the stylistic moves of traditional Peking Opera. In Raining in the Mountain, King Hu delivers an engaging spiritual journey and reflects profoundly on Buddhist philosophy about morals, renunciation, karmic retribution and enlightenment."

"Visually gorgeous and notably abstract.... The fights, when they occur, are properly balletic, but what's truly exhilarating is the editing, for which Hu credited himself. The movie, one of his best, was sadly his last commercial hit."

"One of King Hu's most marvelous movies [and] one of the most visually splendid Chinese films ever made. The Buddhist monastery that serves as the setting was actually assembled by editing together several South Korean locations, all majestic. Add in the brilliant color design and costumes of vibrant splendor, and you get a spectacle that David Lean would kill for. "
Nominated
Gold Hugo
Chicago Int'l. Film Festival