Israeli Occupation Collection
Israeli Occupation Collection
Directed by
Philippe Bellaiche
,
Rachel Leah Jones
,
Ameen Nayfeh
,
Maysaloun Hamoud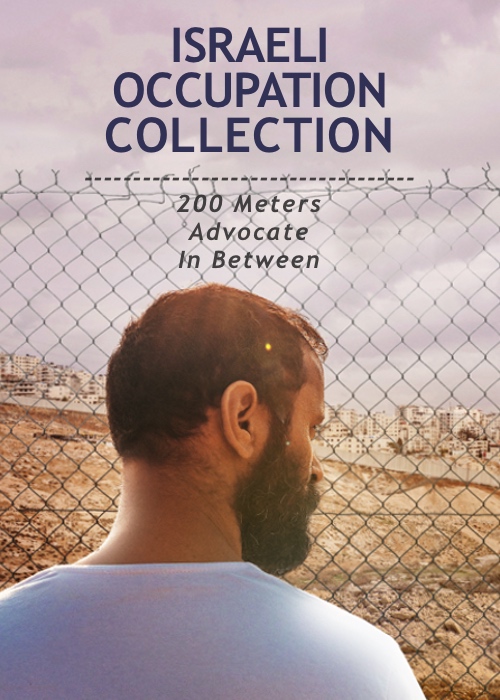 ---
To submit an order, request a preview screener, or ask a question contact Erin Farrell
What does it mean to be a Palestinian living in Israel today? The Israeli Occupation Collection asks this question and many more. Exploring the nuances of life under Israeli occupation, each film pays close attention to the daily realities of Palestinians both culturally and personally.

200 METERS (2020, directed by Ameen Nayfeh)
Mustafa and his wife Salwa live 200 meters apart in villages separated by the Israeli border wall. One day he gets a call every parent dreads: his son has been injured in an accident. Rushing to cross the Israeli checkpoint, Mustafa is denied on a technicality. But a father's love won't give up and he will do anything to reach his son. A 200 meter distance becomes a 200 kilometer odyssey, as Mustafa, left with no choice, attempts to smuggle himself to the other side of the wall.

ADVOCATE (2019, directed by Philippe Bellaiche and Rachel Leah Jones)
Since the early 1970s, attorney Lea Tsemel has made a career out of defending Palestinians in Israeli courts: feminists and fundamentalists, non-violent demonstrators and armed militants. As far as most Israelis are concerned, she defends the indefensible. As far as Palestinians are concerned, she's more than an attorney, she's an advocate. ADVOCATE follows Tsemel's caseload in real-time, including the high-profile trial of a 13-year-old boy — her youngest client to date.

IN BETWEEN (2016, directed by Maysaloun Hamoud)
In Maysaloun Hamoud's feature debut, 3 Palestinian women sharing an apartment in the heart of Tel Aviv find themselves doing a balancing act between tradition and modernity, citizenship and culture, fealty and freedom.
"I would highly recommend it to any academic library that supports programs looking at human rights, the Israel-Arab War, law, and politics." - EMRO, on ADVOCATE

"A feminist portrait of women who defy tradition... A superb drama, this is highly recommended." - Video Librarian, on IN BETWEEN
"Engrossing.... Provocative...makes for potent viewing as a portrait of a steadfast activist with a controversial cause."

"A superb central performance from Ali Suliman as Mustafa is at the heart of this impressive first feature, which persausively captures the grinding indignities of day to day Palestinian life. Ali Suliman gives a terrific, satifyingly layered performance."

"[An] energetic feature debut...compelling...While the entire cast is aces, the three leads, and the chemistry among them, are especially fine..."
Awards & Recognition
Winner
Best Documentary
Emmy Awards
Winner
Best Israeli Film
DocAviv Film Festival
Winner
GoE Bridging the Borders Award
Palm Springs Int'l. Film Festival
Nominated
Grand Jury Prize
Palm Springs Int'l. Film Festival
Nominated
Outstanding Producer of Documentary Motion Pictures
PGA Awards
Nominated
Politiken's Audience Award
CPH:DOX
Official Selection
IDFA
Official Selection
Human Rights Watch Film Festival
Official Selection
DOC NYC
Official Selection
The BNL People's Choice Award
Venice Days
Official Selection
Thessaloniki Film Festival
Winner
Human Rights Jury Prize
Atlanta Jewish Film Festival
Winner
Audience Choice Award
San Diego Arab Film Festival
Official Selection
Berlin Film Festival
Official Selection
Miami Film Festival
Winner
NETPAC Award
Toronto Int'l. Film Festival
Winner
Best Film
San Sebastian Int'l. Film Festival
You May Also Like...