Iron Curtain Collection
Directed by
Andrzej Wajda
,
Ivan Ostrochovský
,
Petra Epperlein
,
Michael Tucker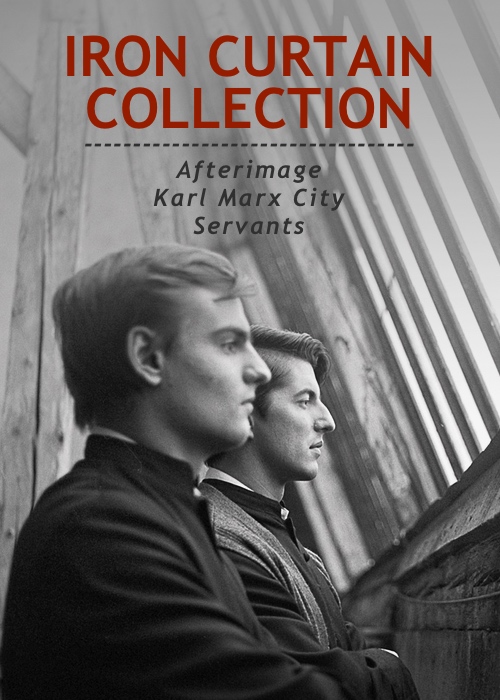 ---
To submit an order, request a preview screener, or ask a question contact Erin Farrell
Film Movement's Iron Curtain Collection explores the profundity of the Cold War and its far-reaching effects on Eastern Europe. Featuring the final film in the fêted career of Polish director Andrzej Wajda, a documentarian searching for answers about her family's Stasi past, and a sinister tale of communism infiltrating the Catholic Church of Czechoslovakia.

AFTERIMAGE (2016, directed by Andrzej Wajda)
The great Polish director Andrzej Wajda's last film is a passionate biopic about avant-garde artist Władysław Strzemiński (played by Polish superstar Boguslaw Linda), who battled Stalinist orthodoxy and his own physical impairments to advance his progressive ideas about art.

KARL MARX CITY (2016, directed by Petra Epperlein and Michael Tucker)
25 years after the collapse of the GDR, filmmaker Petra Epperlein returns to the proletarian Oz of her childhood to find the truth about her late father's suicide and his rumored Stasi past. Reconstructing everyday GDR life through declassified Stasi surveillance footage, the past plays like dystopian science fiction, providing a chilling backdrop to interrogate the apparatus of control and the meaning of truth in a society where every action and thought was suspect.

SERVANTS (2020, directed by Ivan Ostrochovský)
In Czechoslovakia, 1980, the Communist regime demands allegiance from all its subjects. Michal and Juraj, students of a theological seminary, must decide if they will collaborate with the government or becoming targets of the secret police.
"The final film by the great Polish filmmaker Andrzej Wajda (1926-2016) tells the story of another major Polish artist. Wladyslaw Strzeminski, who lost both an arm and a leg in World War I, was a leading abstract artist in the 1930s and '40s, but when the Soviet Union installed a Communist government in Poland after the war he was hounded, denounced, and attacked for refusing to betray his principles... It's a fitting final word from a filmmaker who also challenged Soviet culture commissars and censors throughout his own career. Recommended." - Video Librarian, on AFTERIMAGE
"CRITIC'S PICK. This is an angry, vivid, passionate film. Cinema is worse off now that Wajda, one of the truly towering greats of the form, is dead; there is some consolation, though, that he went out with his boots still most defiantly on."

"CRITIC'S PICK. KARL MARX CITY, Michael Tucker and Petra Epperlein's unsettling new documentary, is a smart, highly personal addition to the growing syllabus of distressingly relevant cautionary political tales."

"CRITIC'S PICK! Captivating...SERVANTS pairs chilly black-and-white imagery, reminiscent of films by Robert Bresson, with an austere kind of choreography: Ostrochovsky often begins shots with characters frozen in place for several seconds before they launch into action, as if they were chess pieces moved by God across the bare lines of the seminary's crumbling stone architecture."
Awards & Recognition
Nominated
Encounters Award
Berlin Int'l. Film Festival
Official Selection
New Directors/New Films
Winner
Special Jury Prize
Polish Film Festival
Official Selection
Masters Programme
Toronto Int'l. Film Festival
Official Selection
Toronto Int'l. Film Festival
Official Selection
Rome Film Festival
Official Selection
CPH:DOX
Official Selection
Stockholm Int'l. Film Festival
Official Selection
Palm Springs Int'l. Film Festival
Official Selection
New York Film Festival
Official Selection
Chicago Int'l. Film Festival
You May Also Like...