Classical Music Collection
Classical Music Collection
Directed by
Götz Schauder
,
Niki Stein
,
Jean-Stéphane Bron
,
Kyra Steckeweh
,
Tim van Beveren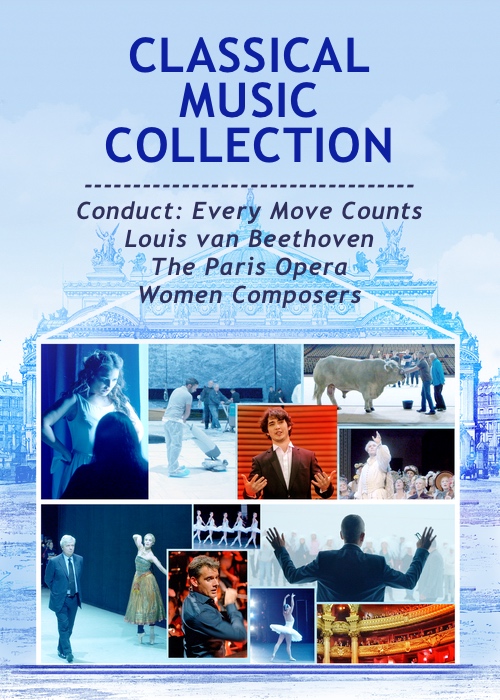 ---
To submit an order, request a preview screener, or ask a question contact Erin Farrell
Film Movement's Classical Music Collection takes a multidimensional approach to the study of early music, featuring a biopic about one of the world's most famous composers, as well as three documentaries—with subjects ranging from sympony conducting and the inner workings of a perfoming arts institution, to the little-known history of early classical music written by women. The collection explores both the formal rigor and history of Western musical tradition, and how its practice lives on in the 21st century.

CONDUCT! EVERY MOVE COUNTS (2016, directed by Götz Schauder)
Every two years 24 young conductors travel to the Frankfurt Opera House to compete in the world's leading conducting competition. The film accompanies five contenders, as they battle for the top spot and the prestige that comes with it.

LOUIS VAN BEETHOVEN (2020, directed by Niki Stein)
The year is 1826. Ludwig van Beethoven faces the final stanza of his storied career. Deaf and defiant, he recalls memories of his youth, when as an eight-year-old prodigy he comes under the tutelage of the Bonn court organist, Christian Gottlob Neefe. Years later after an encounter with Mozart, the young "Louis" begins to study under Joseph Haydn in Vienna, but family tragedies and unfulfilled love leave a lasting mark that haunts him for the rest of his life.

THE PARIS OPERA (2016, directed by Jean-Stéphane Bron)
Sweeping in scope yet full of intimate moments, The Paris Opera offers a candid look behind the scenes of one of the world's foremost performing arts institutions. Over the course of one tumultuous season, director Jean-Stephane Bron nimbly juggles multiple storylines - from ballet and opera rehearsals, to strike negotiations, last minute crises and ticket disputes - revealing the dedication of the talented personnel who bring breathtaking spectacles to the stage night after night.

WOMEN COMPOSERS (2018, Kyra Steckeweh and Tim van Beveren)
When Leipzig pianist Kyra Steckeweh realized that her repertoire almost exclusively consisted of music composed by men, she began searching for pieces written by female composers. Her research in archives, libraries, and publishing houses quickly brought to light a variety of remarkable piano pieces that have been buried in history and rarely performed. The film highlights the historical and personal circumstances under which these three remarkable women created their works in the 19th and early 20th centuries.
"Highly recommended. By focusing on only a few competitors, Schauder reveals their distinctive personalities and musicality.... Superior music competition storytelling is on display here, with excellent editing and sound quality." - EMRO, on CONDUCT! EVERY MOVE COUNTS

"The film can provide a unique view into the development of one of the most recognized composers of the western world. Recommended." - EMRO, on LOUIS VAN BEETHOVEN

"Recommended" Video Librarian, on THE PARIS OPERA
"How the excellence happens is what interests Swiss filmmaker Bron and his skill in telling that story keeps viewers engaged. Recommended." - EMRO, on THE PARIS OPERA

"Highly Recommended" - Video Librarian, on WOMEN COMPOSERS
"This film is recommended for all audiences who want to learn more about remarkable women in the arts during the 19th century." - EMRO, on WOMEN COMPOSERS

"Handsomely mounted... elegantly tailored."

"With a few exceptions, the female composers of the 19th and early 20th centuries have not yet really reached the consciousness of a broad audience. That their place in music history is now being awarded to them is attributed to such outstanding interpreters and filmmakers like Kyra Steckeweh and Tim van Beveren. It is thanks to the two of them that the awareness for women composing is sharpened in the first place."

"[T]his entertaining film provides an interesting insight into the interaction between musicians and conductor..."
Awards & Recognition
Winner
Opus Klassik
Germany
Official Selection
Spokane Int'l Film Festival
Official Selection
Rehoboth Beach Film Festival
Official Selection
Berkshire Int'l Film Festival
Official Selection
Rendezvous with French Cinema
Official Selection
San Francisco Int'l. Film Festival
Official Selection
COLCOA French Film Festival
Official Selection
Great Lakes Int'l. Documentary Film Festival
You May Also Like...