Anchored by a "dynamically physical, wild-eyed performance" (The Hollywood Reporter) from newcomer Bartosz Bielenia, CORPUS CHRISTI is an incisive, darkly humorous, and "engrossing exploration of faith, second chances and the possibility of atonement" (Screen).

After spending years in a Warsaw prison for a violent crime, 20-year-old Daniel is released and sent to a remote village to work as a manual laborer. The job is designed to keep the ex-con busy, but Daniel has a higher calling. Over the course of his incarceration he has found Christ, and aspires to join the clergy - but his criminal record means no seminary will accept him. When Daniel arrives in town, one quick lie allows him to be mistaken for the town's new priest, and he sets about leading his newfound flock. Though he has no training, his passion and charisma inspire the community. At the same time, his unconventional sermons and unpriestly behavior raise suspicions among some of the townsfolk - even more so as he edges towards a dark secret that the community hasn't revealed in the confessional booth.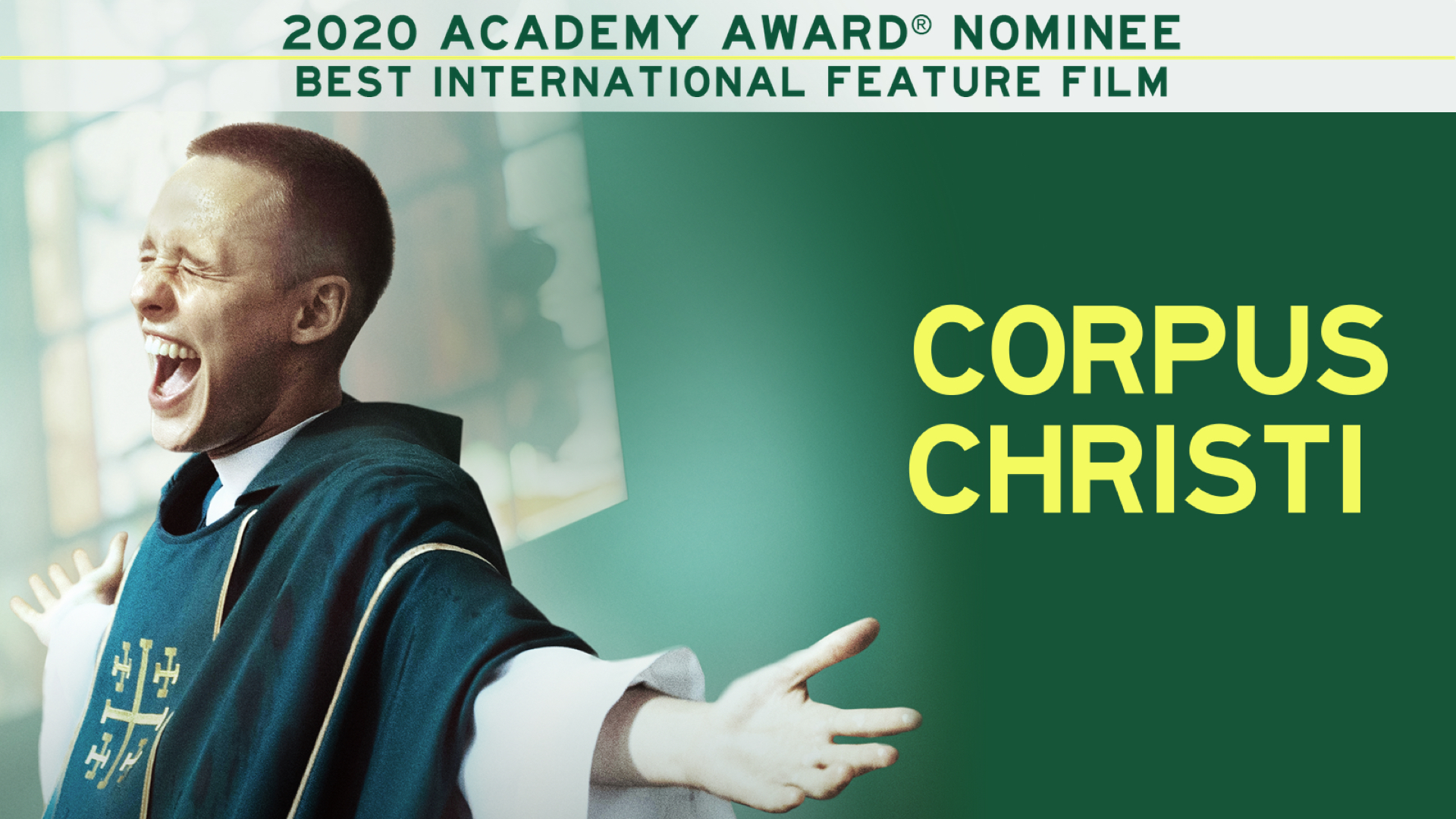 "Jan Komasa's CORPUS CHRISTI is a stunning Polish feature which has made waves at Venice and deserves further global recognition. Poland may have quite the strong Oscar contender with this film which shares the elegance, complexity and layered narrative approach as Oscar favorites THE HUNT (Denmark) and LOVELESS (Russia). A story that packs an emotional punch while offering fresh themes and interesting perspectives on religion and faith, this is a striking feature that is impressive in every sense of the word and one of the year's best directed films – foreign or otherwise."

"Original and absorbing. What is true faith and what's fakery is a question that runs through Polish director Jan Komasa's slow-burn drama Corpus Christi, its dark intensity channeled in a dynamically physical, wild-eyed performance from talented young lead Bartosz Bielenia. "

"Often moving but also disquieting and even intermittently funny, this drama unfurls a spiritual parable that is uniquely Polish but accessible to all. Piotr Sobociński's blue-toned cinematography enhances the rapturous air and enhances a smartly written, unsettling work of realism."

"[A]n engrossing exploration of faith, second chances and the possibility of atonement. "

"In his superb new movie, Jan Komasa investigates the social dynamics of a small community that gets a new priest who hides his true identity."

"It's flawless storytelling, effortlessly played and with a rousing, if bloody, conclusion."

"An intelligent and provocative film which alternately charms and unsettles, Corpus Christi is Poland's entry for the 2020 Best Foreign Language Oscar. It's a small torn drama with much bigger connotations and it thoroughly deserves its place on the world stage."

"The film works in spite of a familiar redemption arc due to Bartosz Bielenia's fantastic performance. The young actor manages to endows the character with both a nervous violent surge and a wise, empathetic human. His piercing eyes and features reminiscent someone whose faith in humanity and all its emotions have the power to change."

"Bielenia delivers a fantastic performance...."

"Critic's Pick. Compelling...powerful...."

"Shot in icy blues, greens, and greys, this is a harsh, sad world with no happy endings in sight. Yet Komasa finds much humour in this premise, creating a wise satire of not just the church but the way people use their beliefs to justify their own bad behaviour...."

"If Oscars were decided according to the speed with which voters flipped out when they stared into the eyes of the principal character, "Corpus Christi" would be an easy winner. Corpus Christi" is neither a parable nor an allegory, yet image after image seems charged with intent, from the opening shot—of carpenters' saws, grating to and fro like instruments of torture—to the climax, an apocalyptic welter of fire and blood. This Daniel has no need to enter a lions' den. If I were a lion, I'd be afraid to enter his."

"Corpus Christi is a one-of-a-kind film that is funny, fresh, moving and one of 2019's best."

"It's a smart, absorbing, impressive drama."

"Corpus Christi is ... beautifully real, tenderly sketching pained characters in need of a saviour. Sometimes, reality and heart are all a film needs to propel it towards touching excellence. **** (4 stars)"

"Corpus Christi is simply brilliant."

"[I]t's an understated, fierce masterpiece that deserves to be remembered as one of the finest films of 2019. A powerful, unforgettable and challenging film in its own way, Corpus Christi asks vital questions about the true meaning of redemption and belief. "

"Bartosz Bielenia's central performance as Daniel is worth the price of admission."

"Komasa directs with a conviction that also drives the mesmerising Bielenia...."

"...powerfully intense.... It's a disturbingly beautiful portrayal of denial, compassion, forgiveness, and love set in an unlikely place by an equally unlikely character."

"Corpus Christi doesn't skimp on the humanity; the film earns the slow smiles it brings to your face. But it also has its eyes on a different endgame than you think it does regarding this white lie, and by the time the movie decides to come full circle, it's setting up a climactic shot that's a 100-watt jolt. It also somehow makes perfect sense. Salvation isn't a final destination. It's a journey."

"What an astounding religious drama, and what a beautifully realistic morality play."

"An electrifying canvas of youth in trouble and in crisis of identity, Komasa crafted an affecting and scandalous story about faith, compassion, resilience and human values."
Nominated
Best International Feature Film
Academy Awards
Winner
Young Cineastes Award
Palm Springs Int'l. Film Festival
Winner
FIPRESCI Prize for Best Actor in an Int'l. Feature Film
Palm Springs Int'l. Film Festival
Winner
Edipo Re Award - Best Film
Venice Film Festival
Winner
Label Europa Cinemas - Best Film
Venice Film Festival
Winner
Eleven Awards including Best Film
Polish Film Festival
Winner
Best Actor
Chicago Int'l. FIlm Festival
Winner
Best Actor
Stockholm Film Festival
Nominated
Fedeora Award - Best Film
Venice Film Festival
Official Selection
Toronto Int'l. Film Festival
Official Selection
Busan Film Festival
Official Selection
AFI Fest
Sort By:
Venue

City

State

Begins

Ends

Film Forum
New York
NY
February 19, 2020
March 3, 2020
SIFF Cinema Uptown
Seattle
WA
February 21, 2020
February 27, 2020
Tower Theater-Miami
Miami
FL
February 21, 2020
February 28, 2020
Wilmette Theatre
Wilmette
IL
February 21, 2020
February 27, 2020
Catlow Theatre
Barrington
IL
February 21, 2020
February 27, 2020
TIFF Bell Lightbox
Toronto
ON
February 21, 2020
February 28, 2020
Taos Center for the Arts
Taos
NM
February 23, 2020
February 26, 2020
Shuswap Film Society
Salmon Arm
BC
February 24, 2020
February 24, 2020
Center for Arts Bonita Springs
Bonita Springs
FL
February 27, 2020
March 1, 2020
Orcas Island Film Festival
Eastsound
WA
February 27, 2020
February 27, 2020
Time and Space Limited
Hudson
NY
February 27, 2020
March 13, 2020
Cinéma Moderne
Montreal
QC
February 28, 2020
March 5, 2020
Cinéma le Clap
Québec
QC
February 28, 2020
March 5, 2020
Cinema du Parc
Montreal
QC
February 28, 2020
March 5, 2020
Cinéma du Musée
Montreal
QC
February 28, 2020
March 5, 2020
Nuart Theatre
Los Angeles
CA
February 28, 2020
March 5, 2020
Angelika Film Center Dallas
Dallas
TX
February 28, 2020
March 5, 2020
Mary Riepma Ross Media Arts Center
Lincoln
NE
February 28, 2020
March 5, 2020
Carbon Arc Cinema
Halifax
NS
February 28, 2020
February 28, 2020
Railroad Square Cinema
Waterville
ME
February 28, 2020
March 5, 2020
Globe Cinema
Calgary
AB
February 28, 2020
March 5, 2020
Guild Cinema
Albuquerque
NM
March 3, 2020
March 7, 2020
Cinecenta
Victoria
BC
March 4, 2020
March 5, 2020
Boulder International Film Festival
Boulder
CO
March 5, 2020
March 8, 2020
Landmark E Street Cinema
Washington
DC
March 6, 2020
March 12, 2020
Landmark Shattuck Cinemas
Berkeley
CA
March 6, 2020
March 12, 2020
Landmark Opera Plaza
San Francisco
CA
March 6, 2020
March 12, 2020
Miami International Film Festival
Miami
FL
March 6, 2020
March 15, 2020
Oklahoma City Museum of Art
Oklahoma City
OK
March 6, 2020
March 12, 2020
The Little Theatre
Rochester
NY
March 6, 2020
March 19, 2020
Landmark Ritz 5
Philadelphia
PA
March 6, 2020
March 12, 2020
Landmark Lagoon Cinema
Minneapolis
MN
March 6, 2020
March 12, 2020
Celebration! Cinema at Woodland Mall
Grand Rapids
MI
March 6, 2020
March 12, 2020
Manship Theatre
Baton Rouge
LA
March 11, 2020
March 11, 2020
Miniplex Theater
Arcata
CA
March 13, 2020
March 19, 2020
Sudbury Indie Cinema
Sudbury
ON
March 13, 2020
March 19, 2020
Savoy Theater
Montpelier
VT
March 13, 2020
March 19, 2020
Cinema Art
Fairfax
VA
March 13, 2020
March 19, 2020
Mesilla Valley Film Society
Mesilla
NM
March 13, 2020
March 19, 2020
Camelot
Palm Springs
CA
March 13, 2020
March 19, 2020
Living Room Boca
Boca Raton
FL
March 13, 2020
March 19, 2020
Charles Theatre
Baltimore
MD
March 13, 2020
March 19, 2020
Cinemapolis
Ithaca
NY
March 13, 2020
March 19, 2020
Broadway Metro
Eugene
OR
March 13, 2020
March 19, 2020
Burnscourt Theater
Sarasota
FL
March 13, 2020
March 19, 2020
Gray Duck Theater
Rochester
MN
March 13, 2020
March 19, 2020
ByTowne Cinemas
Ottawa
ON
March 13, 2020
March 19, 2020
Upstate Films/Rhinebeck
Rhinebeck
NY
March 13, 2020
March 19, 2020
Landmark Chez Artiste
Denver
CO
March 13, 2020
March 19, 2020
Jarvis Conservatory
Napa
CA
March 14, 2020
March 14, 2020
El Campanil
Antioch
CA
March 15, 2020
March 15, 2020
Nickelodeon
Columbia
SC
March 18, 2020
March 18, 2020
Normal Theater
Normal
IL
March 19, 2020
March 29, 2020
Landmark Midtown Art Cinema
Atlanta
GA
March 20, 2020
March 26, 2020
Salt Lake City Film Society Broadway Center Cinemas
Salt Lake City
UT
March 20, 2020
March 26, 2020
Real Art Ways
Hartford
CT
March 20, 2020
March 27, 2020
Belcourt Theatre
Nashville
TN
March 20, 2020
March 26, 2020
Landmark Tivoli
St. Louis
MO
March 20, 2020
March 26, 2020
Tivoli Cinemas at The Nelson-Atkins
Kansas City
MO
March 20, 2020
March 26, 2020
Savor Cinema
Fort Lauderdale
FL
March 20, 2020
March 26, 2020
cinema Paradiso-Hollywood
Hollywood
FL
March 20, 2020
March 26, 2020
Broadway Metro
Eugene
OR
March 20, 2020
March 26, 2020
Zeitgeist Theatre & Lounge
Arabi
LA
March 20, 2020
March 26, 2020
Palm Theatre
San Luis Obispo
CA
March 20, 2020
March 26, 2020
Jacob Burns Film Center
Pleasantville
NY
March 20, 2020
March 26, 2020
Red River Theatres
CONCORD
NH
March 20, 2020
March 26, 2020
a/perture
Winston Salem
NC
March 20, 2020
March 26, 2020
Oxnard Film Society
Oxnard
CA
March 20, 2020
March 20, 2020
Living Room Theater
Portland
OR
March 20, 2020
March 26, 2020
Loft
Tucson
AZ
March 20, 2020
March 26, 2020
Harkins Theatres Camelview 5
Scottsdale
AZ
March 20, 2020
March 26, 2020
Tallahassee Film Society
Tallahassee
FL
March 20, 2020
March 22, 2020
Alamo Drafthouse Cinema - Winchester
Winchester
VA
March 22, 2020
March 22, 2020
The Dairy Center for the Arts
Boulder
CO
March 25, 2020
March 28, 2020
The Ryder
Bloomington
IN
March 26, 2020
April 5, 2020
Landmark Kendall Square Cinema
Cambridge
MA
March 27, 2020
April 2, 2020
Athena Cinema
Athens
OH
March 27, 2020
April 2, 2020
Orinda Theater
Orinda
CA
March 27, 2020
April 2, 2020
cinema-worcester
Worcester
MA
March 27, 2020
March 27, 2020
The Fleur Cinema
Des Moines
IA
March 27, 2020
April 2, 2020
Liberty Theater
Camas
WA
March 27, 2020
April 2, 2020
Harris Theater
Pittsburgh
PA
March 27, 2020
April 2, 2020
Cinema Salem
Salem
MA
April 3, 2020
April 9, 2020
Angelika Carmel Mountain
San Diego
CA
April 3, 2020
April 9, 2020
Gateway Film Center 8
Columbus
OH
April 3, 2020
April 9, 2020
Nevada Cinema
Nevada City
CA
April 5, 2020
April 5, 2020
Harkins Theatres Camelview 5
Scottsdale
AZ
April 10, 2020
April 16, 2020
Broadway Theatre
Saskatoon
SK
April 10, 2020
April 21, 2020
Media Arts Center San Diego
San Diego
CA
April 10, 2020
April 16, 2020
Consolidated theatres Koko Marina 8
Honolulu,
HI
April 17, 2020
April 23, 2020
Lakewood Ranch Cinemas
Sarasota
FL
April 25, 2020
April 26, 2020
Ambler Theater
Ambler
PA
May 6, 2020
May 6, 2020
Princeton Garden Theater
Princeton
NJ
May 7, 2020
May 7, 2020
County Theater
Doylestown
PA
May 14, 2020
May 14, 2020
Detroit Institute of Arts
Detroit
MI
May 22, 2020
May 24, 2020
MFA Houston
Houston
TX
May 29, 2020
May 31, 2020