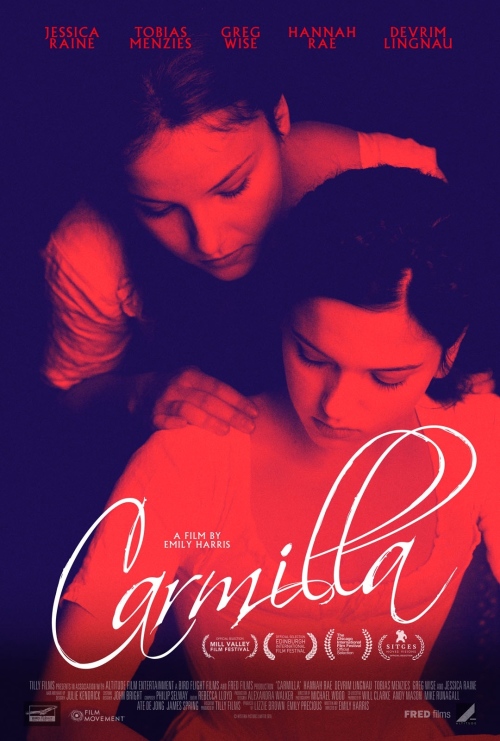 Isolated from the outside world, fifteen-year-old Lara (Hannah Rae) lives in seclusion on a vast country estate with her father and strict governess Miss Fontaine (Jessica Raine). Late one evening, a mysterious carriage crash brings a young girl into their home to recuperate. Lara immediately becomes enchanted by this strange visitor who arouses her curiosity and awakens her burgeoning desires.

This atmospheric coming-of-age tale is inspired by the 1872 Gothic vampire novella by Joseph Sheridan Le Fanu.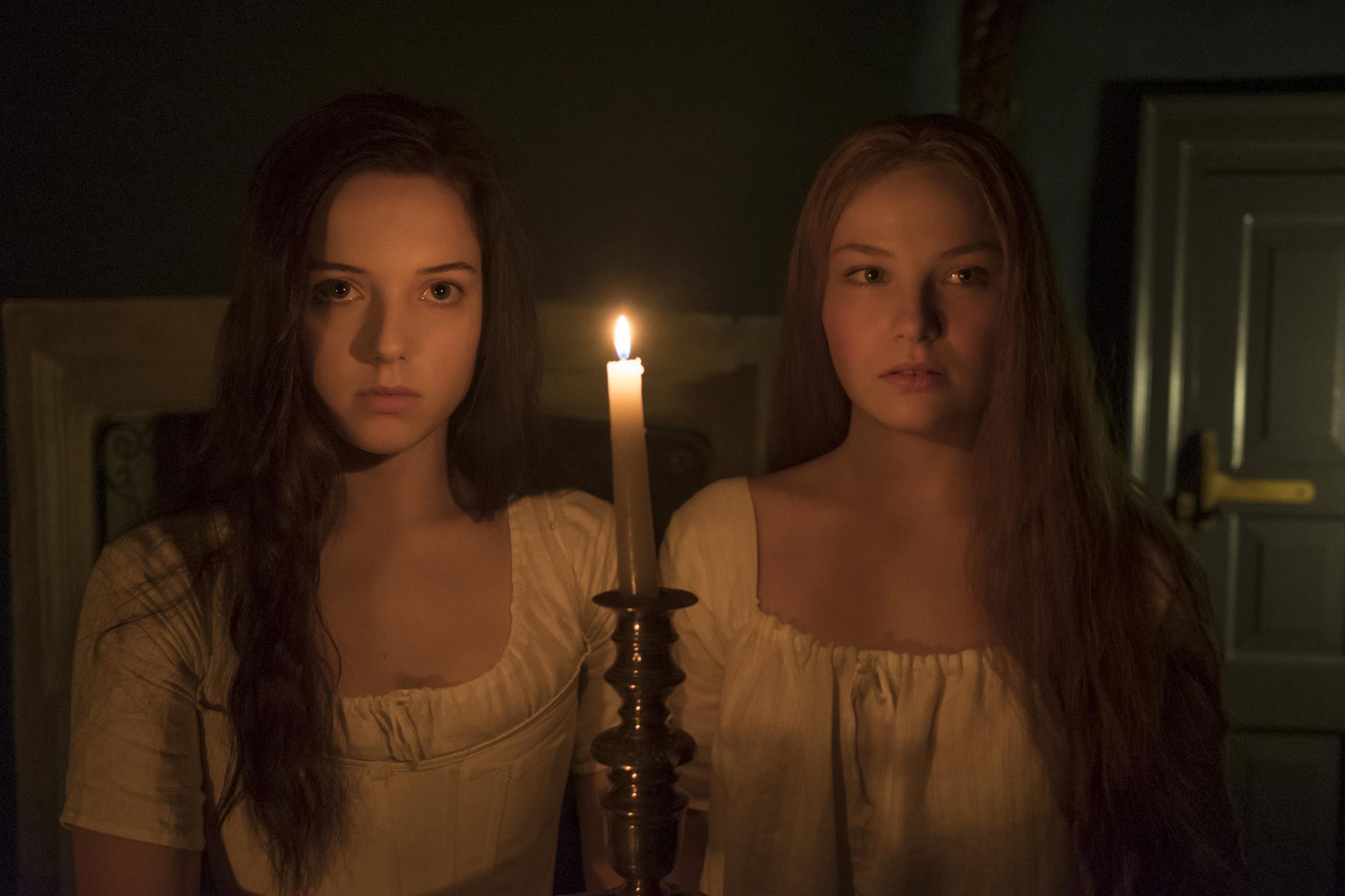 "Lingnau and Rae create plenty of heat in their scenes together, nicely balanced by the chill of Raine's performance...."

"Alternating between candle-lit interiors and sun-dappled gardens, Carmilla perfects the experience not just of first love, but of the heady excitement of being completely bewitched by someone new; as cinematographer Michael Wood (Let Me Go) relays in the feature's most expressive, atmospheric touch, it's hazy, ethereal and almost hyper-real. Indeed, as Lara and Carmilla gravitate towards each other in both infatuated dreams and stolen moments, and as Miss Fontaine's suspicions increase, Harris always finds the right visual language to convey the movie's simmering sentiments. "

"DoP Michael Wood makes glorious use of a summery English scenery and candlelit interiors for the beguiling sapphic 'love story' that certainly has its moments delicately evoked by the infatuated duo...."

"[A] complex, enchanting mystery which draws you in and leaves you obsessing over every last detail. "

"It portrays its central relationship as playful, sensual and exciting rather than driven by plain lust and is all the more an affecting tale as a result, while the performances from its young leads are mesmerising in their raw empathy."

"Aesthetically, Carmilla is gorgeous, Blood reds on pale backgrounds are used to great effect, and the candlelit cinematography controls exactly what one can see – and what one thinks might be lurking in the shadows – at any time. The uniformly strong performances lean into this dread. Hannah Rae employs a blank face through much of Lara's macabre imaginings, heightening the sense of unease. Jessica Raine is another standout, keeping Miss Fontaine's cruel superstitions grounded in a genuine love for her charge – though neither Raine nor Harris excuse her actions."

"Stemming directly from the original text and thriving in its gloomy setting is Emily Harris' 2019 adaptation, a wistful yet sensuous debut feature by the British director. Carmilla proves to be a successful adaptation that will appeal to anyone looking for some unearthly shivers, or a coming-of-age story where being conscious of one's own sexuality takes centre stage."

"It feels like it's been a few years since we had a good old fashioned Victorian horror film.... So the moody, intelligent Carmilla (inspired by the gothic novel by Sheridan Le Fanu) is a welcome addition to the genre—not to mention a queer one! The movie is brimming with interesting motivations and relationships, and keeps you involved all the way through its poignant finale."

"Director/writer Emily Harris whips up an intoxicating affair between two women in Carmilla, as she takes her turn at adapting the 1872 Gothic novella by Sheridan Le Fanu. Harris takes a discerning stab at the book, with a sensual tale of first love and sexual awakenings packed full of beguiling and provocative imagery."

"Like Le Fanu, Harris's keen sense for Gothic atmosphere is both sumptuous and menacing, often relying on the power of suggestion to build the tension around Carmilla's true identity and purpose. Her use of gauzy, almost impressionist, light is particularly effective, imbuing the film with a diffuse and watery texture, as is the distinctive colour palette, which trades between daytime pastels and washed-out earth tones and a candelit tenebrism that evokes Derek Jarman's and Peter Greenaway's period films Caravaggio and Nightwatching and Lucile Hadžihalilović's Innocence. Additionally, the pointillist sound design accentuates each movement and gesture onscreen, from the scurry of bugs to the buttering of toast, conveying something of Lara's spine-shivering perspective as she recognizes in Carmilla her own unquenchable desires. The result is an adaptation less about the horrors of the unknown and more about the supernatural pleasures of love and sexuality – and the threat that such passions pose to the domestic and social order. Harris's Carmilla is perhaps one of the most febrile, inventive and truest in spirit to Le Fanu's original story, while it avoids the baroque clichés that have persistently separated the vampire subgenre from its Romantic roots. (To the director's further credit, it should also be noted that the film was a largely female-driven project, from its women producers, mostly female cast and heads of department.) Her Carmilla is neither a succubus nor a sex kitten, but a spirited young woman whose embodiment of nature and sapphic desire makes her into a queer feminist, and, thus, a monster to be villainized and othered in the eyes of the patriarchy. "
Nominated
Gold Q-Hugo
Chicago Int'l. Film Festival
Nominated
Michael Powell Award
Edinburgh Int'l. Film Festival
Official Selection
Sitges Film Festival
Official Selection
Mill Valley Film Festival
Sort By:
Venue

City

State

Begins

a/perture cinema Virtual Screening Room 3
Winston-Salem
NC
June 16, 2020
FilmBar Virtual Screening Room 5
Phoenix
AZ
July 17, 2020
Laemmle Theatres Virtual Screening Room 10
Los Angeles
CA
July 17, 2020
The Frida Cinema Virtual Screening Room 10
Santa Ana
CA
July 17, 2020
Tampa Theatre Virtual Screening Room 9
Tampa
FL
July 17, 2020
CinemaSavannah Virtual Screening Room 1
Savannah
GA
July 17, 2020
FilmScene Virtual Screening Room 8
Iowa City
IA
July 17, 2020
Gene Siskel Film Center Virtual Screening Room 10
Chicago
IL
July 17, 2020
The Parkway Theater Virtual Screening Room 15
Minneapolis
MN
July 17, 2020
Oxford Film Festival Virtual Screening Room 6
Oxford
MS
July 17, 2020
Guild Cinema Virtual Screening Room 8
Albuquerque
NM
July 17, 2020
Gateway Film Center Virtual Screening Room 5
Columbus
OH
July 17, 2020
Sioux Falls State Theatre Virtual Screening Room 4
Sioux Falls
SD
July 17, 2020
The Grand Berry Theater Virtual Screening Room 7
Fort Worth
TX
July 17, 2020
The Kiggins Theatre Virtual Cinema 6
Vancouver
WA
July 17, 2020