Lake Tahoe
Directed by
Fernando Eimbcke
Teenage Juan crashes his family's car into a telegraph pole on the outskirts of town, and then scours the streets searching for someone to help him fix it. His quest will bring him to Don Heber, an old paranoid mechanic whose only companion is Sica, his almost human boxer dog; to Lucía, a young mother who is convinced that her real place in life is as a lead singer in a punk band, and to "The One who Knows," a teenage mechanic obsessed with martial arts and Kung Fu philosophy. The absurd and bewildering worlds of these characters drag Juan into a one day journey in which he will come to accept what he was escaping from in the first place--an event both as natural and inexplicable as a loved one's death. What begins as a mundane adventure quickly becomes a transformative journey exploring issues of death, family, love and sex.
Director & Cast
Director:

Fernando Eimbcke

Starring:

Diego Cataño

Starring:

Hector Herrera

Starring:

Daniela Valentine

Starring:

Juan Carlos Lara

Starring:

Yemil Sefami
Where to Watch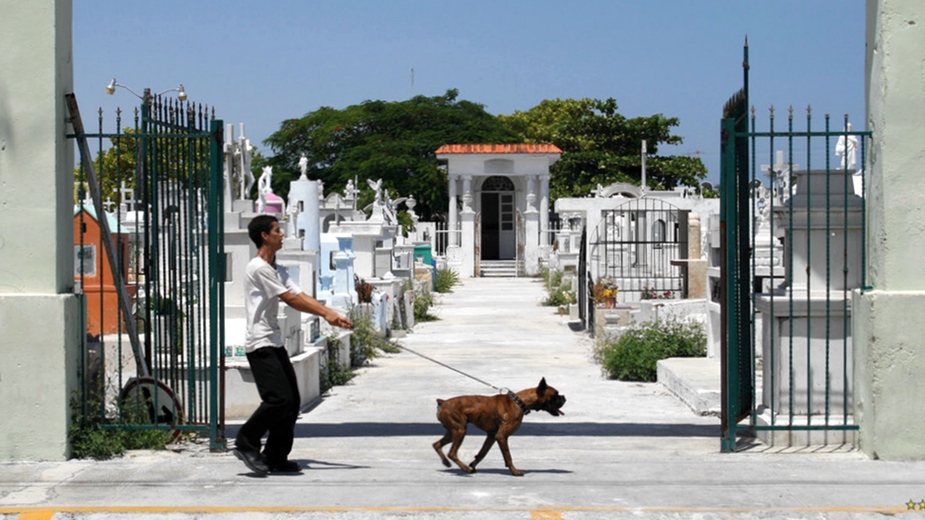 "Critic's Pick! Exquisitely captured in natural light by the cinematographer Alexis Zabé, Juan's journey is framed by sherbet-colored houses and lemon sidewalks, dipping palm fronds and a burnished, turquoise horizon. The director calls his style "artisan cinema"; I just call it dreamy."

"The film's siesta-speed pacing lets us bask in a cavalcade of sunny compositions, framed in ample CinemaScope dimensions. Nearly every shot is a joy to behold!"

"Touching! This supremely poised film...becomes richer and less familiar as it goes along."

"A masterwork of storytelling...a seemingly effortless performance of a sort we almost never see."
Winner
FIPRESCI Special Prize
Cannes Film Festival
Winner
Best Film
Mexican Oscars®
Winner
Best Director
Mexican Oscars®
Winner
Best Supporting Actor
Mexican Oscars®
Winner
Alfred Bauer Prize
Berlin Int'l Film Festival
Winner
FIPRESCI Prize
Berlin Int'l Film Festival
Official Selection
Karlovy Vary Int'l Film Festival
Official Selection
San Sebastian Int'l Film Festival
Official Selection
Palm Springs Int'l Film Festival
Official Selection
Portland Int'l Film Festival
Official Selection
San Diego Latino Film Festival
Official Selection
Cleveland Int'l Film Festival
Official Selection
Philadelphia Film Festival
Official Selection
Wisconsin Film Festival
Official Selection
Nashville Film Festival
Official Selection
Atlanta Int'l Film Festival
Official Selection
Cine Las Americas Film Festival
Official Selection
San Francisco Int'l Film Festival
Official Selection
Maryland Film Festival
Official Selection
Berkshire Int'l Film Festival
Official Selection
Hola Mexico Film Festival
Official Selection
Milwaukee Film Festival
Official Selection
San Juan Int'l Film Festival
Official Selection
AFI Latin Film Festival
Official Selection
San Francisco Latino Int'l Film Festival
Official Selection
St. Louis Int'l Film Festival
Official Selection
Three Rivers Film Festival