Pendular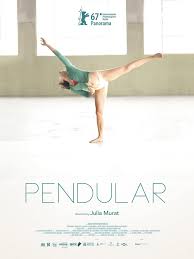 ---
To submit an order, request a preview screener, or ask a question contact Maxwell Wolkin
The loving relationship between a sculptor and a dancer.
A young couple settles down in a large abandoned industrial warehouse. An orange strip, glued to
the floor, partitions the area in two equal portions: to the right, his sculpture atelier; to the left, her
dance studio. PENDULAR takes place in this setting, where art, performances and intimacy mingle
together, and where the characters slowly lose their capacity to distinguish between their artistic
projects, their past and their romantic relationship.

"Try to imagine a movie that is at once identical to and the complete opposite of "La La Land." The
result might be something like Julia Murat's exacting and poignant portrait of two artists in love and
at work… the film is concerned above all with the negotiation of boundaries: between the intimacy
of a couple and the autonomy of an individual; between art and eros; between labor and leisure."
-A.O. Scott, The New York Times
"Murat forges an alternate cinematic dimension, a living canvas-as-habitat that intoxicatingly affirms her humanism."
Awards & Recognition
Winner
FIPRESCI Award for Best Film in the Panorama Section
Berlin Int'l Film Festival
Winner
FIPRESCI Award for Best International Feature Film
Uruguay Int'l Film Festival
Official Selection
New Directors/New Films
Official Selection
AFI Fest
You May Also Like...