In the Last Days of the City
In the Last Days of the City
Directed by
Tamer El Said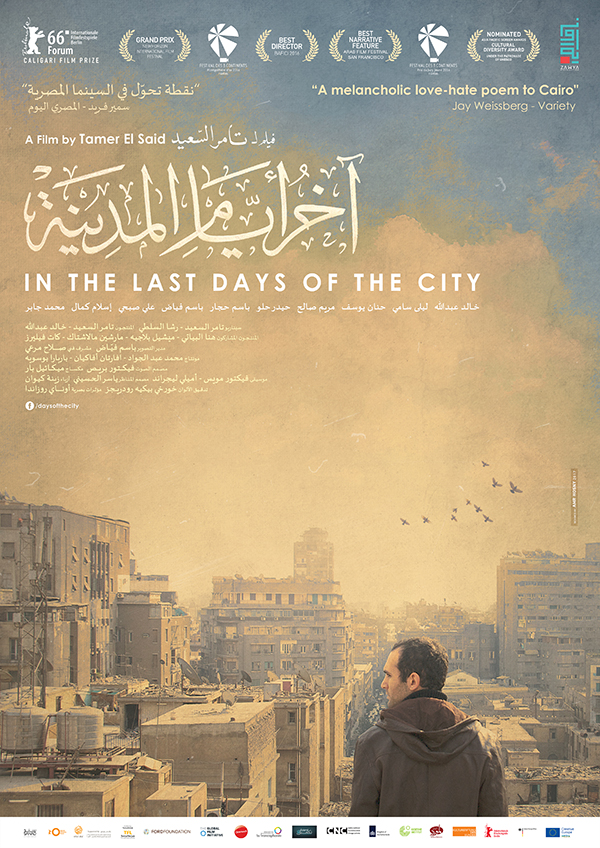 ---
To submit an order, request a preview screener, or ask a question contact Maxwell Wolkin
In downtown Cairo in 2009, Khalid, a 35-year-old filmmaker struggles to make a film that captures the soul of his city while facing loss in his own life. With the help of his friends who send him footage from their lives in Beirut, Baghdad and Berlin, he finds the strength to keep going through the difficulty and beauty of living in Cairo.
IN THE LAST DAYS OF THE CITY is the debut feature of filmmaker Tamer El Said. It tells the
fictional story of a filmmaker from downtown Cairo played by Khalid Abdalla (The Kite Runner,
The Square) as he struggles to capture the soul of a city on edge while facing loss in his own life.
Shot in Cairo, Beirut, Baghdad and Berlin during the two years before the outbreak of revolution in
Egypt, the film's multi-layered stories are a visually rich exploration of friendship, loneliness, loss
and life in cities shaped by the shadows of war and adversity.

Since its world premiere, IN THE LAST DAYS OF THE CITY has been well received by the
international and Arab critics and has won a dozen prizes worldwide, and was included on a number
of lists of Best Films of the year.

Unfortunately, the film has never been allowed to be seen in Egypt as the censors refused to issue a
permit to screen the film.
Cast
"Without doubt, the most important film in Egyptian cinema, if not Arab cinema, in a very long time."

""In the Last Days of the City" is an elegy, a melancholic love-hate poem to Cairo and the role of filmmakers in any city in pain."

"[T]his is a film of beauty and skill."
Awards & Recognition
Winner
Caligari Film Award
Berlin Int'l. Film Festival
Nominated
UNESCO Award
Asia Pacific Screen Awards
Official Selection
CPH PIX