City of the Sun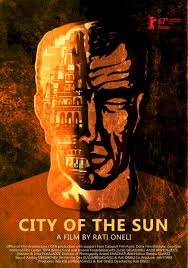 ---
To submit an order, request a preview screener, or ask a question contact Maxwell Wolkin
The Georgian city of Chiatura was once a thriving manganese mining town. Now it's a dismal place, the bleakness of its empty streets and crumbling factory buildings only deepened by a dense layer of gray clouds. Rati Oneli surely intended the title of his film City of the Sun to be ironic. His camera roams this post-apocalyptic ghost town, capturing arresting shots of the mountainous landscape and industrial wasteland, and stopping off with the handful of people who, despite everything, live a life like any other in this cheerless place. They have jobs to go to, they have hobbies and they have ambitions. We meet a miner who spends his evenings on the theater stage, two skinny girls training for the Olympics, and a music teacher earning extra cash selling metal he hacks from half-demolished buildings. With calmness and integrity, Oneli shares his observations of a depleted society forgotten by the outside world.
Chiatura was founded by Georgian poets and aristocrats in the 19th century, but was turned into a
center of industry by the Soviet regime. For the Soviets, it was the embodiment of a bright, utopian
future: Theaters, universities, concert halls, stadiums and parks were built, along with the first and
largest public aerial cable car transportation system in the world. Chiatura was a human and
technological experiment on a grand scale that ultimately failed.

A prizewinner in Madrid, Minsk, Sarajevo, San Francisco and Tbilisi, CITY OF THE SUN features
stunning vistas—still beautiful in their state of melancholy neglect—and puts a human face on a
city devastated by an industrial and economic system that sated its needs and moved on.
Awards & Recognition
Winner
Art Doc Award
Sheffield Int'l. Documentary Festival
Winner
FIPRESCI Award
Minsk Int'l. Film Festival
Winner
IDFA Award
Sarajevo Film Festival
Winner
Best Documentary
Sarajevo Film Festival
Winner
Special Jury Award
Minsk Int'l. Film Festival
Winner
Golden Gate Award
San Francisco Int'l. Film Festival
Official Selection
Berlin Int'l. Film Festival
Official Selection
IDFA